Lessons that Living Libations taught me
1) Minimalism is blessing
For years, before finding the life-changing creations from Living Libations, I was spending tones of money for countless "beauty" products that were actually useless and basically "ugly"…
Products full of harsh chemicals, manufactured in horrible laboratories, using innocent animals for deadly experiments.
Back then I did not have the knowledge. Over the years I have tried SO many conventional products, always trying to find the "perfect" face cream, the "perfect" shampoo, the "perfect" this, the "perfect" that…
All the "perfect" products advertised by "perfect" models in glossy magazine covers that made me believe that I actually needed all this crap in order to feel and look "perfect"..Nonsense… 

Living Libations helped me simplifying my daily routine and following a more minimalistic, environmental- and budget- friendly way of life.
My favorite multi-functional and versatile Living Libations products are the Seabuckthorn Best Skin Ever, The Happy Gum Drops, the Everybody loves the Sunshine and the Petal Passion Yoni Serum.
Seabuckthorn Best Skin Ever is an all-in-one cleanser, exfoliator, and moisturizer.
I also use it as a body moisturizer (many times combined with organic coconut oil or cold pressed almond oil), as a hair oil or an anti-frizz treatment. 
While traveling I also use it for my dry lips and cuticles when there is no time for manicure. This magical oil has cured my cystic adult acne and helped me get rid of dry patches in winter.
Since I have used this I have seen amazing results on face, body and hair.
The Petal Passion Yoni serum can be used not only as a lubricant, but also as a deodorant, a perfume (love applying a little bit of this on my hair) and also as kind of a medicine when weird stuff are going on "down there". 
When itchiness is taking place especially after swimming in the sea or pool, yoni serum helps a lot. 
It feels sooo refreshing.
I apply the Happy Gum Drops on a dry toothbrush as a toothpaste while I also mix 1-2 drops with some water for a mouth rinse or when my throat hurts me.
When I have bleeding or painful gums I apply a drop on some floss and I always apply a drop on my tongue and remove it with my tongue scraper.
Everybody Loves the Sunshine protects you from sun burning but it is also a beautiful hair and body oil.
The versatile products of Living Libations (if you make your own research you will see that LITERALLY each one of their products can be used in more than one ways) made my life EASIER, LIBERATING and my travelling a true pleasure…
Before Living Libations I was carrying a whole bag of toiletries with me in every trip…now….a tiny make-up bag fits everything and…here we go..
THOSE SHOES WERE MADE FOR WALKING …And another important thing…the bottles last FOREVER (even the tiniest ones….
"clear off your bathroom counter. Liberate your bathroom and your life from the multi-step regimes, the bottles, the plastic, the quick-fix products, and the skin type hype marketing" 

〰 Nadine Artemis
2) Sun is my friend
I grew up in a country in which since we were toddlers we were covered with tones of synthetic sunscreens in order to be "protected" from the sun.
Our parents thought that they knew everything about the dangers of sun exposure and sunscreen companies were gaining billions by selling products that were "protecting" us from the "enemy"….the sun.
Nadine Artemis writes "If we are wise, we can enjoy a healthy and happy relationship with our ancient friend, the sun".
Nadine advices to eat SPF foods ( such as watermelon, tomatoes, peppers, berries, pure and unprocessed chocolate (!!!! YES!!!!!!  because all these foods protect naturally our skin against sunburn.
As for me, my work requires many hours under the extremely hot Greek sun.
I am an archaeologist who is working for years during July and August in the Greek landscape…
VERY HIGH temperatures, sun burns etc…The only product that has literally saved my skin is the magical oil that is called "Everybody Loves the Sunshine". 
Having desert plant extracts in its formulation, this elixir protects my skin from getting burned.
So, let's ditch the chemical sunscreens that can actually cause skin cancer and let's go outside and play!!!!
Sun is my friend!!!!
3) Being a Chocoholic is lots of fun
I LOVE chocolate.I SIMPLY LOVE IT.

Chocolate lifts my spirit. It is my mood medicine.
My deep respect for chocolate started in university while attending courses about the pre-Columbian civilizations.
Cocoa beans were used as food and medicine, in rituals and as an exchange commodity and have been highly valued in their societies. I was fascinated to read that those people considered chocolate to be the "Food of the gods".
No wonder that the "Chocolate Karat Serum", made of forest grown cacao beans, is one of my TOP Living Libations product.
"Food of the gods" for my skin. This serum is the most DIVINE, FEMININE and SENSUAL creation I have ever tried.
Treating yourself with Chocolate Karat serum is like visiting a spa on a daily basis.
Another passion for a chocoholic girl like me is the artisan chocolate bars from Living Libations, made from raw chocolate combined with super foods.
Tasting those babes and YOU ARE IN HEAVEN… I eat those chocolate-bars not only as a treat but also as breakfast/lunch because they give me all energy needed for a super busy day.
Seriously…..Chocolate that feeds skin, body and brains….What is more to ask for??
4) DRY BRUSHING is my savor
For many years I was suffering from persistent cellulite due (mainly) to bad blood circulation.
After reading a Nadine Artemis article concerning the benefits of daily dry brushing, I thought that I had nothing to lose.
And after reading this description on their site: "Dry brush your skin for the love of your lymphatic system because a flowing lymphatic system helps support healthy immune response and circulation".
Lymph fluid bathes all of the cells of the body with oxygen and nutrients and carries away wastes and excess fluid" I knew that dry brushing is my only way to go. And that was a great decision!!
Very often I combine my daily dry brushing routine with the Lymph tonic blend that is a powerful blend of circulation-enhancing essential oils. 
The results are MAGNIFICENT…My skin texture has improved so much and my cellulite has been reduced.
Dry Brushing….Totally a game changer!!! 
"
What was I doing before finding this????"
5) OVER WASHING is a nasty thing.
We live in a culture of excessive washing…twice a day we shower…and we bath. And we shower and bath again..and again…countless of products are used for our daily hygiene…
We wash and wash and wash….we treat our skin and hair like its full of dirt that needs to be washed off twice or even three times per day.
And then we need body milks and butters and lotions and hair masks because all this washing makes our skin and hair feel dehydrated. And this vicious cycle goes on and on…
"..There is no need to lather body skin with soapy suds. Pits and private bits are a rich environment for bacteria — warmth, dampness, darkness, and food. 
A gentle soap and water wash up is all you need cleanliness"… 
"Skip the anti-bacterial soaps, sprays, and gels and stick with simple, pure soap".
∼ Wise advices from Nadine Artemis. 


And the Living Libations clarifying clay soap is definitely on my wishlist!!!
6) My YONI has feelings….

Negative emotions, relationship issues, stress, sadness and so many other problems hurt our yonis…
And modern marketing wants us to buy more and more products full of harsh chemicals for the "protection" of our yonis.
The so-called "feminine hygiene" can be full of traps..and dangerous ingredients….
"..a healthy yoni is self-cleaning, and feminine sprays and washes disrupt this beautiful process and contribute to short term and long term dryness. 
Many of these products irritate delicate cells and kill off the good bacteria, like lactobacillus, and this can quickly lead to an overgrowth of yeast. 
Play it safe and side-step all synthetic products including deodorizers, moisturizers, bubble baths, colored bath-salts, feminine washes, and lubricants…"
∼ Nadine Artemis. 


Organic coconut and jojoba oils are great choices but my favorite oil and the one that my yoni loves is the Petal Passion Yoni Serum.
Jojoba, ylang, rose otto, chamomile and more beautiful ingredients compose this serum that lubricates my precious yoni, hydrates and soothes any area that can be inflamed or irritated.
Take care of your yoni….it is a precious gift of mother nature…..
7) MAGAZINES and SOCIAL MEDIA: not so glamorous..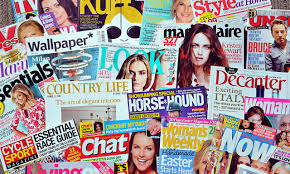 Magazines and social media are full of "perfection"…beautiful girls (and always young, like aging is a form of crime in modern society!!! 
Or like it is something that we should be embarrassed about!!!) without a simple flaw.
Perfect bodies, perfect skins, perfect clothes, perfect ALL..
Many start feeling insecure.. and dissatisfaction about ourselves arises…Stunning youtubers show us the monthly favorites…and there is a huge list of these monthly favorites that will make you look "beautiful"…
It all starts like that… "My favorite face cleanser for the month July is that….my favorite eye-cream…my favorite lip-cream….my favorite eyebrow cream…my favorite this cream…my favorite that cream…."
And then, there are more creams and products for the next month….and you get confused..
"Damn" you think….you listened to this girl, you run, you bought all the products she proposed so you can be like her and next month she CHOSES NEW FAVORITES…and you feel disappointed….and confused….and you run to buy the new "magical products"..and the hunt never ends…
Ditch all that stuff…and put magazines aside…Living Libations taught me that:
"Skin needs to be out in the day and out in the night. 
It needs to be under the stars. It needs to be in the shaded forest and out in the sun. It needs to be outside receiving cosmic information from nature that nourishes your cells and your soul.."
∼ Nadine Artemis
Pure and simple elixirs from mother nature is the real beauty…myself with all its' flaws is the real beauty…
my life- even with many problems- is the real beauty…because I breathe….because I walk….because I fight…because I fall and rise again…because I love….and I am loved…because I see beauty around me..because I am blessed with the gift of LIFE…rest is just INDUSTRY….
8) The healing power of salt
In many cultures, salt is thought to contain powerful spiritual properties. 
In my culture salt is considered to be a weapon against any kind of negative energy.
It cleanses and balances energy. Salt is used to energetically cleanse our homes (I love the salt lamps and the salt candle holders).
You can also fill a bowl with salt and place it in a room to absorb negative energy. If you want to clear your aura you can mist yourself with salt water or simply throw salt around you.
Or shower with some salt water.
Therefore, I was not surprised to read that salt has strong healing properties for our oral health.
One of the best books I have ever read concerning oral care is the "Holistic Dental Care: The Complete Guide to Healthy Teeth and Gums" by Nadine Artemis.
One very important step for the proper daily oral care routine is the mouth rinse with salt water. Rinsing your mouth with salt water fights many problems such as bad breath, sore throat, dental traumas etc. But the power of salt does not stop here.
Salt inhaler from Living Libations is a true game changer for me because all my life I was struggling with allergies, nasal and throat issues.
It is a purifying device that cleanses the whole respiratory system. It cleanses the sinuses, the nasal cavities, throat and lungs and is amazing for treating colds. The inhaler comes with pure Himalayan Pink Salt.
"The salt used in our Salt Inhalers is organic and straight from the foothills of the Himalayan foothills. Himalayan Pink salt is one of the purest salts available for culinary, therapeutic and cosmetic uses. 
This salt has beautifully formed crystals which range in color and size from off-white to a lustrous pink. Himalayan Pink salt is a pure, hand-mined salt that is derived from ancient sea salt deposits, and it is believed to be the purest form of salt available"
∼ Nadine Artemis
9) Fairytales can be real….
You all know Asterix and Obelix …and you all know Getafix the village druid, the wise man known for his many magical and medicinal potions who acts as the village doctor, teacher, mentor..
Well, for me this fairytale actually exists…and takes flesh and bones with Living Libations druid Nadine Artemis…
who, as a real-but female- Getafix prepares her magical portions…and creams….and elixirs…and teaches us all the power of nature, the magic of plants and herbs…a true mentor that drags us out to face the light of knowledge.
Like in Plato's Allegory of the Cave, most of us cannot free ourselves from phenomenal state, from the things we believe are true…from things we believe are true just because someone else taught as so..
Just as the prisoners of the cave could not free themselves from their chains, we cannot set ourselves free from our preconceptions.
And Living Libations came to teach us another way of life..another state of mind…another world..the magical world that only Mother Nature provides…
Thank you Living Libations for everything you taught me.
∼ Eva